Overview
On October 27, 2006, with the simultaneous listing in Shanghai and Hong Kong, our bank realized the historical transformation from a state-owned commercial bank to a joint-stock commercial bank, and then to the internationally public company. The Bank has made constant efforts to improve the corporate governance and checks and balances mechanism comprising the Shareholders' General Meeting, the Board of Directors, the Board of Supervisors and the Senior Management featuring clearly-defined responsibilities and accountability, coordination and effective checks and balances, and to optimize responsibilities of the authority organ, decision-making organ, supervisory organ and executive organ. As a result, the corporate governance operation mechanism with scientific decision-making process, effective supervision and steady operation has been in place.
The Bank took improving corporate governance as a primary measure to enhance its core competitiveness, and continued to develop its modern corporate governance framework, mechanism and culture with reference to regulatory requirements and best practices of the industry. It continuously strengthened enterprise risk management and improved the Group's governance system in which all departments perform their duties respectively, in a bid to become the governance benchmark of global large financial groups.
The corporate governance structure of the bank is presented as follows: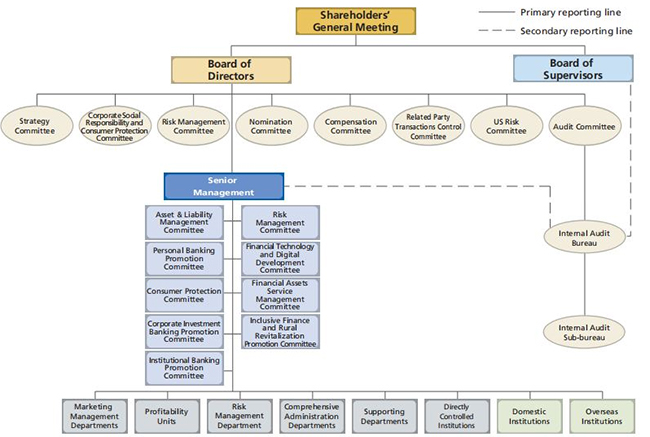 Note: The above is the corporate governance framework chart as of the end of 2021.